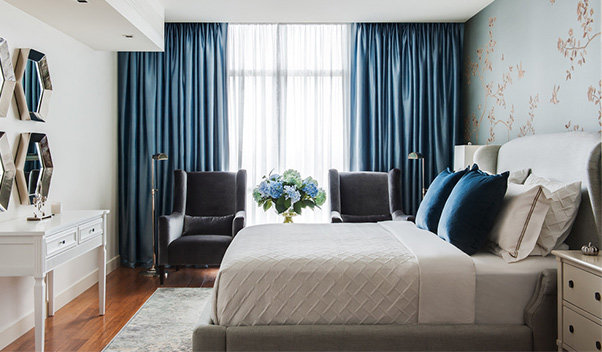 Curtains, those elegant swathes of fabric, have the power to reshape the narrative of your living spaces. As interior design evolves, so do curtain trends, offering a myriad of options to complement various aesthetics. Whether your style is modern and minimalistic, classic and timeless, or bold and eclectic, these bedroom curtains design trends are poised to enhance the beauty and ambiance of any interior.
Minimalist marvels:
Simplicity is a timeless trend that continues to captivate. Minimalist curtains embrace clean lines, neutral tones, and uncomplicated designs. Opt for solid-colored curtains in muted shades like whites, grays, and soft pastels. Sheer curtains are a minimalist favorite, allowing natural light to filter through while adding a touch of elegance.
Nature's embrace:
Bringing the outdoors in is a trend that's flourishing. Nature-inspired curtains feature botanical prints, floral motifs, and earthy color palettes. These curtains infuse a sense of tranquility and harmony, making them ideal for creating a calming oasis within your living spaces.
Playful patterns:
Bold patterns and prints are making a vibrant comeback. Geometric designs, stripes, and abstract patterns can inject energy and character into your interiors. Playful patterns work well as accent curtains in rooms with more neutral décor, adding a dynamic focal point.
Luxurious textures:
Texture-rich curtains create a sensory experience within your home. Velvet curtains exude opulence and warmth, while textured weaves add depth and tactile interest. These curtains are perfect for creating a cozy and inviting atmosphere in bedrooms and living areas.
Sustainable chic:
Sustainability is more than a trend; it's a lifestyle choice reflected in design. Eco-friendly curtains made from organic materials, recycled fabrics, or sustainable textiles are gaining popularity. These curtains not only contribute to a greener planet but also add a touch of conscious elegance to your interior.
Timeless elegance:
Classic styles stand the test of time. Floor-length drapes with traditional pleats and timeless color palettes – think rich blues, deep burgundies, and warm golds – create an air of sophistication. These curtains are ideal for formal dining rooms and elegant living spaces.
Sheer sophistication:
Sheer curtains continue to enchant with their ethereal charm. These lightweight drapes allow diffused light to fill the room while providing a touch of privacy. Sheer curtains are versatile and can be paired with heavier curtains for added depth and style.