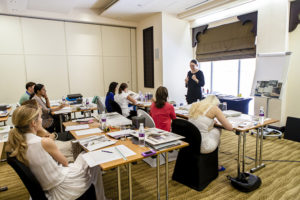 One of the greatest misconceptions about people who are engaged in the Arts is that they will have limited career prospects later in life. But the truth is, there are a lot of career opportunities that await individuals who are into Arts and craft. Most of these jobs not only provide a venue for individuals to express their creative genius, but most of these occupations pay well.
Here are some of the art-related careers and jobs that art enthusiast kids can explore:
Graphic designing is a combination of creativity and modern technology. There is such high demand for graphic and web design artists as more and more industries and companies are recognizing the importance of branding and digital platforms. Most visual artists take graphic designing as a career and take advantage of the demand. They compensation and rate for this job varies on the skills and experience.
Interior design is more than just putting together a couple of furniture and design accents in one space. Knowledge in space functionality and design is needed to ensure that the space can serve its purpose, in terms of aesthetics and workability. The job of an interior design is to ensure that the two concepts are working together to create an interesting space for clients. This job requires creative talent which can be harnessed by art-loving individuals through enrolling in various drawing classes in dubai
Another visual career that art enthusiasts can explore is photography. Like graphic design, photography is both an art and a science. Creativity is combined with technical expertise to create a great composition that will burn to the memory of clients. There are visual artists that also take photography as one of their careers due to high demand for this skill. Artists can work with top agencies or start their own photo studio.
A lot of people think that architecture is all about numbers and measurements. Although it is part of the job, creative input is also needed to make a stunning structural design. Artists who are into building structures can explore a career in architecture
For kids who are into painting, being a mural artist can be an option. Aspiring artists and painters transition to mural prodigies to express their artistic talents.  There are specific industries and companies who are always looking for services of mural artists. This medium is also being taught in painting classes for kids in Dubai.